If you're concerned about the potential threat of mold in your home, you should make sure to clean it up promptly and fix the water problem.
The key to mold control is moisture control. It is important to dry water-damaged areas and items within 24-48 hours to prevent mold growth. You can have a professional perform a test for the most accurate results. Or, as an alternative of purchasing a kit to test for mold yourself. This is definitely a less expensive option than having a mold tester come out to your home.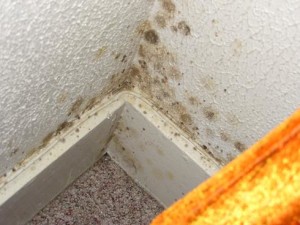 There are 3 basic types of mold tests– surface testing, air testing and bulk testing. It is recommended to do all 3 if you want to be thorough.
Small mold patches can spread and the fact that there is any mold shows that the conditions in your home are right for it to grow. If you don't take care of mold it will soon become a bigger problem. Visible mold growth could also be a sign that there is a much larger mold colony growing hidden away from view. You might not realize there is mold in your house especially if it is unusual looking.
Some mold growth can look white and thread-like. Other mold appears as clusters of small black spots. It can even be grayish-brown or grayish-green in color. Mold that grows behind wallpaper made of vinyl can even appear orange, pink or even purple.
Be informed about what to look for when you have mold in your home. Know how to test for mold and why you should test it. Rule of thumb, always be sure to address any leakage in your home right away and it will save you alot of work. .
We are pledged to the letter and spirit of U.S. policy for the achievement of equal housing opportunity throughout the Nation. See Equal Housing Opportunity Statement for more information.